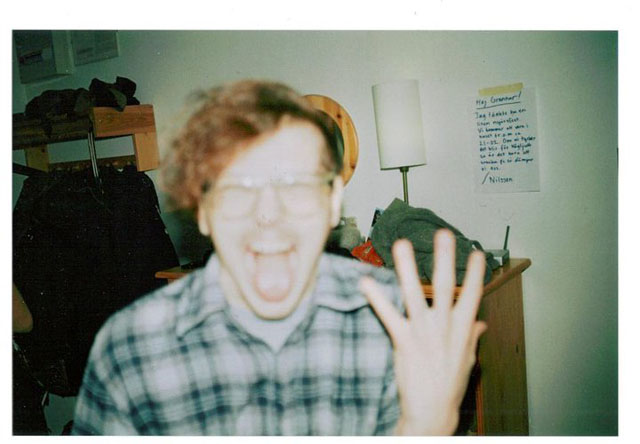 Chicagojazzen: Smittfebern
Intervju
»Fatta hur kass den här skivan hade varit om allt suttit perfekt.« Chicagojazzen är aktuell med nya kassetten Smittfebern. Lyssna på fyra låtar från den på TMA. Vi passade även på att maila några frågor till huvudpersonen himself.
Hur mår Chicagojazzen 2013?
– Jo, det rullar på. Blev precis klar med Smittfebern och har börjat på lite nya grejer. De nya grejerna blir mest elbas och synth.
Vilka har dina intentioner varit med Smittfebern?
– Det är två skivor som smälte ihop till en. En ambientplatta och en dubplatta. Sen snöade jag in på Fela Kuti och bestämde mig för att det skulle vara fullproppat med slagverk. Hela inspelningen tog över ett år då jag dels har flyttat till Umeå och inte har samma tillgång till replokal och dels för att det tagit en sådan sjuk tid att spela in alla detaljer.
Musikaliskt känns det som att det är mer »bandkänsla« över låtarna än vad det brukar vara. Håller du med om det?
– Jo, det kan jag hålla med om. Det är mycket mer improviserade pålägg än vad det brukar vara. På gott och ont får man väl säga. Jag spelar stundtals väldigt fumligt vilket jag tycker det finns vissa poänger med. Fatta hur kass den här skivan hade varit om allt suttit perfekt.
Lage Johansson är med på saxofon på ett antal låtar. Hur började ert samarbete?
– Lage bodde ihop med min farsa på 70-talet och våra familjer har hängt sedan dess. Jag och Lage spelade in två låtar runt 2010 varav den ena hamnade på mitt förra album Elände under namnet »Grusduschen«. Lage är så sjukt lätt att samarbeta med. Vi spelade in all saxofon till Smittfebern på två timmar och de mer improviserade solodelarna satt på första tagningen
Saxofonen gör att musiken till och från faktiskt angränsar en del till jazz, om än långt från traditionell sådan. Mer friform och psykedelisk jazz. Ville du att musiken skulle dra åt det hållet?
– Saxofonerna kom från att jag under en period nästan enbart lyssnade på Fela Kuti. Det schyssta med saxofon är att det både kan låta väldigt mjukt och som väldigt brötiga elgitarrer. Förutom Fela Kuti så har jag lyssnat mycket på Languidity av Sun Ra, The shape of jazz to come av Ornette Coleman och Get up with it av Miles Davis.
Låten »Kvintessens« är å sin sida black metal i old school-anda som inledningsvis låter en del Darkthrone och som sedan övergår i psykotisk kraut. Vad ville du uppnå med denna fantastiska bastard till låt?
– Den låten började som någon typ av fult synth-arpeggio som jag aldrig riktigt lyckades få styrsel på. Efter någon månads frustration bestämde jag mig för att döda låten och vred fuzzen i botten.

Jag har alltid gillat dina låttitlar. På Smittfebern finns flera bra och tankeväckande sådana. Som första låten »Tungan mot stolpen«. Jag kommer att tänka på när man råkade slicka på en frusen lyktstolpe, något många tycks ha traumatiska barndomsminnen av. Är jag rätt ute?
– Yes, du har knäckt koden! Jag vill försöka hjälpa kidsen att motstå impulsen att slicka på kallt stål nu när vintern närmar sig.
Hur väljer du låttitlar? Tänker du att de ska sätta igång saker hos lyssnarna som samspelar med musiken?
– Jag försöker hålla öron och ögon öppna och skriva ner titlar som jag tycker låter bra. När jag börjar bli klar med en skiva så går jag in i mitt worddokument med förslag på låttitlar och pytsar ut dem där de passar in.
Du har alltså ett worddokument med låttitlar. Fyller du på det med titlar när du får upp en i huvudet och gör en lista?
– Ja, precis så. Jag stryker det som redan använts. Jag har så dåligt minne så det är lättast att göra så. En del titlar är ganska dåligt formulerade, man får sitta och försöka kasta om orden tills de blir bra.
Du har även ett nytt projekt som heter Dödmanstjärn med Josef Dahlberg (Devi Döljer/Amber oak). Ni har släppt EP:n Kvartsit nyligen. Det känns lite som en akustisk, singer-songwriter-sida med mörka texter som får utlopp där. Hur skiljer sig det projektet från det du gör med Chicaojazzen?
– Framför allt är det tillvägagångssättet som är den stora skillnaden. Jag bor i Umeå och Josef bor i Uppsala, vilket gör att vi mailar demos till varandra innan vi spelar in dem när båda lyckas befinna sig i Skellefteå. Vi spelar in allt på en fyrakanals kassettporta vilket gör att man är tvungen att begränsa sig och ta bort allt överflödigt. Jag har ingen aning om vad Josef har för mål, men jag siktar på att försöka låta som The Microphones och Natural Snow Buildings.
Hösten är här. Vad tycker du om det?
– Jag gillar hösten. På sommaren blir det knappt mörkt på kvällarna här i Västerbotten så det känns gött med lite omväxling.
Att prata om samband mellan väder och musik är att röra sig nära plattityder, men med det sagt: när trivs du bäst med att skriva musik under året?
– Det är inte så stor skillnad. Jag tror att jag får minst gjort på sommaren för att man hellre drar och badar än att spela in. På samma sätt är det jobbigt att cykla i 30 minusgrader på vintern.
Nämn tre album du lyssnat mycket på under senaste tiden.
– Volvomusik av Onda & Fejs, Seasons in the abyss av Slayer och Variations on a theme av Om.
Nämn tre minnesvärda låttitlar.
– Oj, de tre första jag kommer på är: »Straightening sharks in heaven« med Darkthrone, »The guy who invented fire« med Shellac och »Why I didn't like August '93« med Elevator To Hell.
Smittfebern släpps på Zeon Light Kassett nästa vecka.