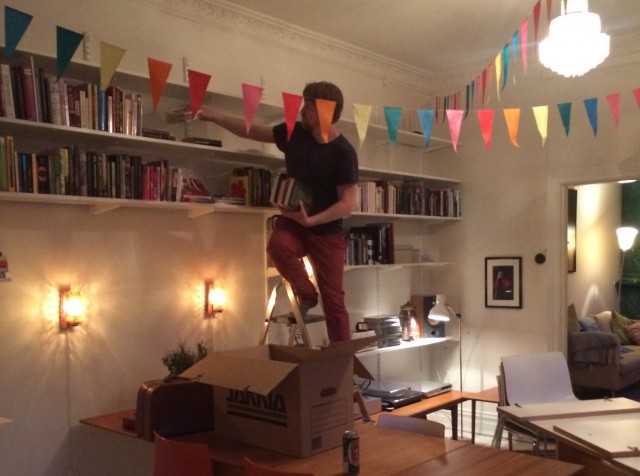 Alla mina böcker
Blogg
Jag vet inte när det startar. Men någonstans i min tidiga vuxenålder bestämmer jag mig för att börja köpa böcker. Jag vill skapa en slags populärkulturell motsvarighet till biblioteket i Alexandria.
En samling med så mycket viktig litteratur inom musik, konst och kultur som det bara går att uppnå.
Så fort jag ser en rekommendation från en kulturskribent eller får ett nyhetsbrev från ett kreddigt bokförlag blir jag ängslig och mitt habegär aktiveras. Inköpsavdelningen vid Addes bibliotek får plötsligt en utökad budget och beställningarna går iväg i ett rasande tempo. "Den boken måste du ha", säger en röst inom mig.
Jag köper Kristina Lugns diktsamling Dikter 1972-2003, omtalade Energy Flash: a Journey Through Rave Music and Dance Culture om den engelska och amerikanska rejv- och dansmusikkulturen och en tung tegelsten med homoerotiska målningar av den finska konstnären Tom of Finland.
Samlingen utökas och så fort jag får tillfälle letar jag upp smala titlar som inte finns på topplistorna. Det är fotoböcker, konstböcker och musikbiografier om artister och kreatörer utanför mittfåran. Udda personligheter som bara genom sitt utanförskap symboliserar ett motstånd. Jag känner att det är mitt motstånd! Suget växer och blir mer intensivt. Det är så enkelt att beställa böcker på nätet. Inköpsavdelningen tappar kontrollen. Biblioteket har bara en bibliotekarie som också är verksamhetens chef och attesterar fakturorna. Det är upplagt för ekonomiska oegentligheter.
Jag vet inte var suget kommer ifrån. Men jag vill ha en bokhylla som dignar av kunskap och äkta livsöden. Unika ord, smarta texter. Människor som levt och kraschat men som kravlat sig upp igen och gjort avtryck i historien. Samhällsomstörtande tankar.
Tiden går och samlingen fylls på. Men bokhyllan står där och känns ensam. Bokryggarna tittar ledsamt på mig när jag går förbi. När jag väl stannar framför hyllan står jag mest och tittar på böckerna och konstaterar att "det här ser ut som en viktig samling, minsann".
Mitt problem är att jag läser så långsamt. Ofta är tankarna på annat håll när jag öppnar en bok. Jag lyckas inte lugna dem och rikta dem mot sidorna i boken. Det är obetydliga saker som fastnar i min hjärna och som blir till oproportionerliga problem. Allmänt dagdrömmeri. Eller oro för framtiden. Det är sällan i nuet som tankarna befinner sig när jag ska läsa. Det blir ännu jobbigare när det är böcker på engelska. Ofta måste jag läsa meningar flera gånger för att de ska fastna.
Sedan är det arvet. Min pappa kom från en arbetarfamilj i Örnsköldsvik. Han utbildade sig till psykolog, började forska och gjorde karriär inom den akademiska världen. När jag var liten köpte han Sagor av August Strindberg till mig. En bok med fina illustrationer och berättelser som "Lotsens vedermödor" och "Sjusovaren". Den sistnämnda handlar om kapellmästare Kreuzberg som älskar att sova om morgnarna för att han spelade i orkester på kvällarna och "drack flera än ett glas bier" innan han gick och lade sig. Det var en fin och kärleksfull gest från pappa som försökte läsa sagorna för mig. Men jag tyckte boken var fullständigt obegriplig.
Kanske sattes ribban där. Sedan dess finns ett slags bildningskomplex hos mig. Jag köper böcker som jag inte läser. Men jag äger dem åtminstone. Och får jag frågor om böckerna kan jag i alla fall säga att, "ja, den har jag koll på. Såg att den har fått bra kritik i DN. Det är verkligen essentiell läsning." Mina böcker är som gamla tiders finrum.
Jag drömmer om en dag då jag sitter i vår fåtölj och läser mig igenom mitt bibliotek. Att jag förlorar mig i läsandet och inte kan sluta. Att jag tar mig igenom bok efter bok och bara fortsätter att läsa. Att jag känner hur spåren i min hjärna fylls med mer och mer kunskap. Att jag når ett högre tillstånd. Blir upplyst. Och sedan går runt och bara myser med rik och fyllig kunskap. Med ett stort leende på läpparna.