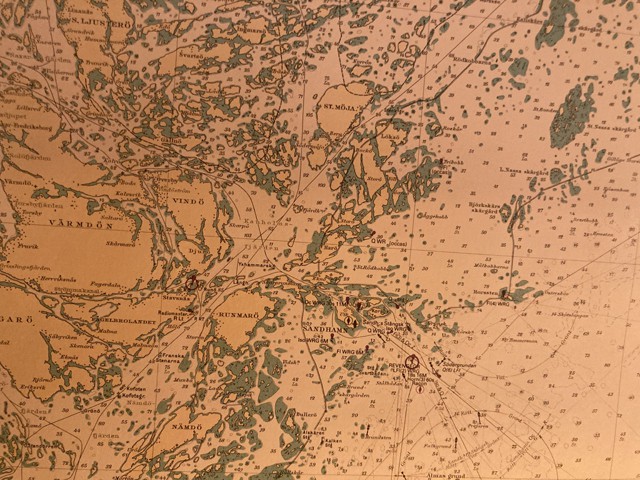 Kartan
Blogg
Det finns en karta på väggen i vårt kök. När jag tittar på kartan blir jag en drönare som svävar högt över de olika öarna och vikarna. Fantasin exploderar i mitt inre.
Kartan kommer från en stuga på ön Vindö i Stockholms skärgård. Sofies mormor och morfar hade stugan som ligger på en skogstomt där även två andra stugor finns. Tomten är full med granar och tallar och sluttar ner mot havet. Där finns en liten träbrygga, klippor, en strand och en roddbåt. Nere vid vattnet reser sig några björkar som ger skugga när solen står högt i juli och augusti. Utanför i farleden passerar stora lastfartyg och färjor till städer på andra sidan Östersjön.
Skogstomten har funnits i Sofies familj ända sedan 1930-talet. Den har en speciell plats i familjen och letar sig in i hjärtat hos de flesta som besöker platsen. Inga vrålande motorbåtar och vattenskotrar kan ta bort magin när vattnet glittrar under högsommardagarna och när solen går ned bakom öarna vid horisonten och vi sitter samlade och ser hur hela himlen färgas rosa.
Här har utedasset använts i årtionden. Det finns redskapsbodar med gamla snickarverktyg och rader av burkar fulla av välsorterade skruvar och spikar. Inte långt från stranden ligger en vedeldad bastu med ett litet fönster där man ser vågorna slå upp på stranden. Det är en idyll. Drömsk och slumrande, som en stor varm famn.
För något år sedan såldes stugorna och tomten.
Kartan är ett sjökort och är utgivet av Kungliga Sjökarteverket 1950. Verket var en del av svenska flottan och hade till uppgift att tillverka sjökort, från själva sjömätningen – uppmätning av havsbotten – till färdigt tryck. Det är ett hantverk som är så exakt och omsorgsfullt ritat att jag nästan tappar andan av alla detaljer och mängden data. Det är ett kartografiskt konstverk skapat av en myndighet.
På ena sida av kartan är Stockholms skärgård från Nynäshamn i söder till Grisslehamn i norr. Utanför sträcker Östersjön ut sig. I högra hörnet syns en bit av Åland och i kartans nedersta kant sticker Gotska Sandön fram.
Havet äter sig in i fastlandet. Den har skapat fåror i berggrunden och gröpt fram öar, vikar och små bitar av land. Mörka turkosfärgade stråk markerar de områden längs med kusten där vattnet är grundare. Siffror är utsatta i havet som visar de olika djupen. En symfoni av siffror. Hela tiden skiftande djup. 57, 66, 178, 114, 23, 41, 11! Och så alla namn: Svenska Högarna, Almas grund, Flötjan, Gunnarstenarna, Ekoknölen och Svartklubben.
Det finns en liten sektion på kartan med symboler som visar fyrar och sjömärken. Små miniatyrbilder av de faktiska byggnaderna och märkena som ser handritade ut. Bara denna lilla del går att utforska i timmar. Det är så precist och vackert ritat.
När jag står framför kartan låtsas jag att jag är en drönare. Tyst och lätt färdas jag mellan de olika öarna och vikarna. Jag börjar på Värmdö och flyger över Vindö. Fortsätter nordost ut mot havet och Rödkobbarna. Längre norrut, ända upp till Söderarm och Söderarms fyr som ligger långt ut i havet. Fortsätter jag efter detta kommer jag till Åland. Havet skiftar i rörelse, ju längre ut desto större vågor.
Långt därnere ser jag James Yorkston i en liten båt. Den skotska folkmusikern och singer-songwritern är ute för att sprida musiken från sitt album The Wide, Wide River över vågorna. Skivan har han spelat in med svenska The Second Hand Orchestra, en grupp ledd av den driftiga musikern Karl-Jonas Winqvist och bestående av flera andra briljanta musiker, som Peter Morén från Peter, Bjorn & John, nyckelharpisten Cecilia Österholm och violinisten Ulrika Gyllenberg.
I mitt inre är kollektivet ute på havet i den Stockholmska skärgården. De spelar för måsar och trutar. De spelar för fyrar, lysbojar och bortglömda kobbar och skär. Musiken är utforskande, fri och improviserad. Den är som havet, den böljar fram och tillbaka, är vemodig och stor och ibland oförutsägbar. Musik om kärlek, kamp, slitningar, konflikter som drivs av en bultande vilja att formulera meningen med livet i själva spelandet. Att låta sig dras med i musikens inneboende kraft och energi.
Jag flyger närmre James Yorkstons båt. Lockas av att krascha i vattnet framför den och fortsätta ned i mörkret i havets djup. In i det verkligt okända. Men jag håller mig över ytan. Sjökortet är lika detaljrikt som det är överskådligt. Det ger mig ett lugn i mitt ofta röriga och oroliga huvud. Jag vet att nästa gång jag stannar framför kartan, nästa gång jag blir en drönare, kommer nya bilder att skapas i mitt inre. Bilder jag ännu inte känner till.