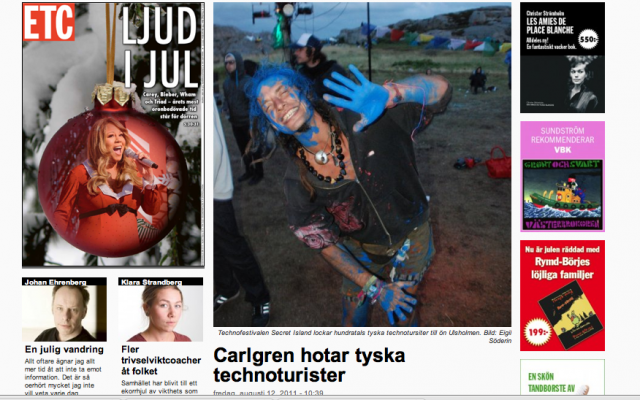 Fredrik Thoréns 2011
Årssammanfattning
En Nöjesguidenskribent, en ETC-rubrik, en skiva av Killer Mike. Det här är vad Fredrik Thorén tar med sig från 2011, utan inbördes ordning.
Nicolas Jaar – I Got a Woman (låt)
Terius Nash – Miss you still (låt)
Cassie feat Fabolous – Radio (låt)
Robin Pecknold – EP (EP)
Massive Attack vs Burial – Four Walls (låt)
Det Lilla Extra – En enda röst (låt)
Ifan Dafydd (artist)
Youth Lagoon – July (video)
Charles Bradley – The World (Is Going Up In Flames)
Killer Mike – Pl3dge (album)
The Daily Show with Jon Stewart (tv-serie)
Mr. Muthafuckin' eXquire – Lost in Translation (skivomslag)
Community (tv-serie)
Zomby (artist)
Maja Bredberg (skribent)
Toro Y Moi – Still Sound (video)
Drive (film)
Pure x – pleasure (låt)
Hype Williams – One Nation (album)
Ayshay – Warn-U (EP)
Nicolas Jaar – What My Last Girl Put Me Through (Bluewave Edit) (låt)
Gauntlet Hair – Top Bunk (låt)
Chad Valley – Shell Suite (låt)
Air France DJ-set på Strand (händelse)
Lykke Li – I Follow Rivers (The Magician Remix)
Cocteau Twins – LAZY CALM (BARON VON LUXXURY RAINY DAY RE-EDIT)
CFCF – Mist / Rhythm (mixtape)
Marvin Gaye – Ain't That Peculiar (Ambassadeurs Reconstruct) (låt)
Lil B – I'm Gay (album)
James Blake – James Blake (album)
Holmes Price – I Wanna Know What Love Is (Holmes Price Edit) (låt)
How To Dress Well på Södra Teatern (konsert)
Birdy – Skinny love (låt)
Kristen Schaal (komiker)
Teen Daze – Waves (låt)
Curb Your Enthusiasm (tv-serie)
Las Palmas (kortfilm)
Julio Bashmore (artist)
Washed Out – A Dedication (låt)
Kurt Vile – Runner ups (låt)
Kristen Wiig (komiker)
"What spring sounds like, what love looks like, what life feels like" (jj-textrad)
Team Rockits YOURS0169 (album-promovideo)
CSLSX – Paula Abdul drinking a Pepsi, October 17th, 1987 (låt)
Bubble Club – The Goddess (låt)
TEAMS and FORTY OUNCE CLOTHING – FORTY OUNCE presents TEAMS mixtape vol.1 (mixtape)
Blackbird Blackbird – Make It A Choice (Pavement Rework)
Black Blood – A.I.E. A Mwana (T-Kolai Special Edit)
Phaseone – Being With You (låt)
När Puff Daddy bytte namn till SWAG (händelse)
Teams vs. Star Slinger (EP)
Augusti (månad)
South Parks dubstep-episod (tv-serie)
The Whendays (EP)
New York-bilderna från ett tomt Manhattan i somras (händelse)
Medialized (tv-serie)
Gil Scott-Heron & Jamie XX – We're New Here (album)
Keep Shelly in Athens – our own dream EP (EP)
Dials – Disappear (Nocow Warm Remix) (låt)
Bridesmaids (film)
"Miljöminister Carlgren hotar tyska technoturister" (tidningsrubrik, ETC)
Schoolcraft – Here in the dark (låt)
Pussymadeofgold.se (blogg)
När Paul Simonon med rockvärldens största hjärta blir kock på en Greenpeacebåt som försöker stoppa oljeborrning (händelse).