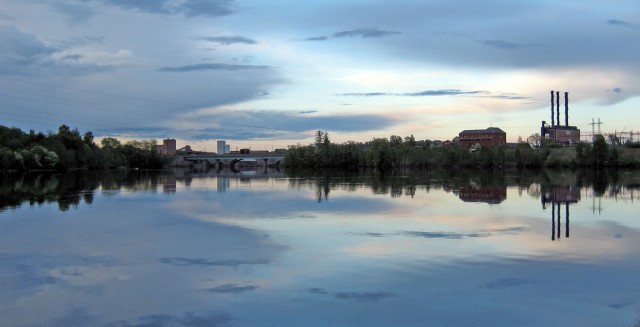 En ny berättelse
Årssammanfattning
Under de sista timmarna av 2011 minns Tobias Norström platsen han lämnade utan saknad. Och ser hur en ny berättelse breder ut sig.
Jag tror att jag var 16 år när jag visste att jag var tvungen att fly. När jag insåg att jag var tvungen att lämna min uppväxt och allt som hade varit säkert bakom mig. Det var nog bara något slags banal självbevarelsedrift. Något inom mig som berättade att jag höll på att kvävas. Det händer nog alla. Jag är inte speciell. Stockholm blev en självklar väg bort. En naturlig fortsättning.
Några år senare började mitt nya liv. Jag besökte min vän Billy för första gången och åkte röda linjen ut till Fruängen. Allt var annorlunda. Jag trodde verkligen det. Det är först nu jag inser att det nya och det gamla var samma sak, att det bara var jag som förändrades.
Aleks lärde mig det.
Han berättade om bråk med polisen, om att bli rånad, om droger, om familjen som dog och allt sådant på spåret Fruängen. Mina erfarenheter var inte identiska. De fanns någon helt annanstans men bestod likväl av saker jag relaterar till Aleks berättelse. Av kompisar som blev skjutna, kompisar som fastnade i skit. Jag såg samma bråk, samma gator och grät tills jag spydde när folk i min familj begick självmord.
Allt det där händer nog alla. Det är nog därför mitt hjärta känns större när Aleks berättar. När någon sätter ord på mänskliga erfarenheter och fångar något allmängiltigt. För det andra kallar "utanförskapet" eller "förorten" är egentligen något annat. Minnen och upplevelser. Platser för människoöden som transcenderar alla former av politisering eller statistik. Det är viktigt att komma ihåg, och än viktigare att berätta om.
Aleks lämnade Fruängen när han var 18 år, jag Borlänge i samma ålder. Jag saknar ofta de jag lämnade – min familj – men aldrig platsen jag växte upp på. Den är fylld av för många plågsamma känslor av instängdhet, av spöken ingen väljer att se.
Karen Russell beskriver i sin debutroman Swamplandia! alligatorbrottaren Avas uppväxt i den amerikanska södern. Russell fyllde genom en magiskt laddad realism ett utanförskap med spöken, reptiler och underliga karaktärer. Där, någonstans i Floridas träskmarker, tecknas även ett porträtt av mänsklig förändring. Om att slitas mellan en säkerhet i erfarenheten och en osäkerhet där allt slitits sönder och en ny horisont breder ut sig. Det är en punkt i vilken allt blir möjligt. Där nya världar blir synliga och där vi slutgiltigt förankrar oss själva i ett sökande efter kärlek och mening.
 Swamplandia! var 2011 års bästa berättelse om att känna sig utelämnad.
Någon gång samtidigt gjorde Tyler the Creator ett framträdande hos Jimmy Fallon. Det var egentligen inget nytt. Många är de artister som trotsigt levererat polemiska tv-framträdanden men Tyler the Creator markerade likväl en ny generations intåg i (eller kanske anspråk på) kulturen.
Det är nog talande hur Tyler the Creator möttes av kyla från hiphop-scenen. Hur han sågs som en barnslig skejtare med pubertala texter. Egentligen var det mest ett nytt perspektiv eller ett nytt förhållningssätt. Ett mångfacetterat uttryck som befann sig i ett mellanland av olika kulturer och som inte anpassade sig till traditionella konsumtionsformer.
När Tyler tillsammans med sina vänner i Odd Future samlade sin historia var det med fotoboken Golf Wang – ett urval av bilder från gruppens Tumblr. En reproduktion av någonting som från början tog form i ett kontinuerligt flöde – utan början och utan slut.
Det har varit tydligt hur en ny berättelse tagit form 2011. Hur en ny, redan omdiskuterad, generation påbörjade sitt narrativ. Det tar jag med mig.
Att jag inte är ensam och aldrig mer kommer att vara det.
Allt annat som var störst 2011:
En öppen landsväg en vårnatt med samtal om Arthur C Clarke.

Det ringlande suggestiva pianot i Thom Yorke, Four Tet och Burials Ego.

En skakande Zola Jesus i logen innan spelningen på Way Out West.

Att rymdhjältinnan kom till världen.

Alla nyanser i Julianna Barwicks röst.

Trummorna i Wiz Khalifas Roll Up.

Öppningsscenen i Drive.

Svansjön i romantiska färger på Lincoln Center.

Harpan i Active Childs You Are All I See.

The Tree of Life.

Några minuter av tystnad efter orkestreringen av William Basinskis Disintegration Loops.

All romantik på Washed Outs Within and Without.

Lana Del Reys ständigt sorgsna blick.

Alla saxofonsolon.

All outtömlig kärlek från och till C.