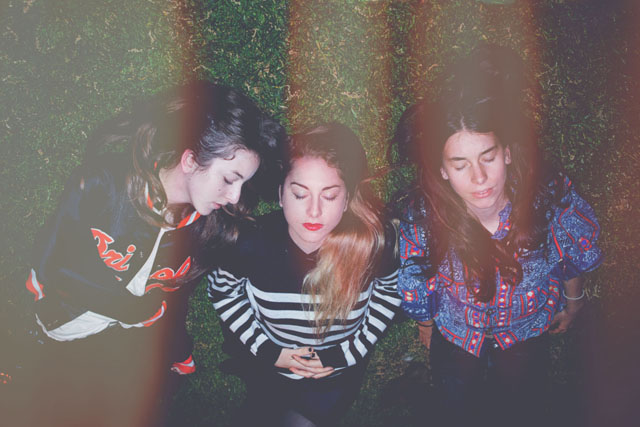 En buffé av distorsion
Blogg
»Jag vet inte om det är bra, men det ser ut och låter som en sol med solglasögon och en cigg i munnen.« Petter Arbman ser Haims konsert i Stockholm nyligen.
»I want to hear your ass cheeks physically clap, OK?«
Este Haim (gitarr och bas) är en av de roligaste scenpersonligheterna jag vet just nu, bredvid Anso »Min Stora Sorg« Lundin. De liknar varandra inte bara i sina roliga mellansnack, utan framför allt i hur all in de går när det gäller musiken.
Este Haim står på Berns scen i Stockholm tillsammans med sina systrar Danielle (sång, gitarr) och Alana (keyboard, slagverk och kör). Bakom dem trummar en anonym kille och där finns ytterligare en anonym kille som jag inte ser vad han spelar eftersom systrarna stjäl allt rampljus. Berns är chockfullt, jag har stått och väntat i en timme och börjar få ont i höfterna. Känner mig lite gubbig. Men så startar Haim kvällen.
»Falling« inleder allt. Bandet spelar bra, men ljudvolymen i sångmikrofonerna är märkligt låg. Danielles röst hörs knappt när hon går ner i lägre register. Men spelglädjen är påtaglig. Estes ansiktsmuskler far lite överallt medan hon spelar och systrarna verkar nästan kompulsivt köra sina käcka (in the very greatest sense of the word) rytmiska utandningar.
»How the fuck are we feeling tonight Stockholm?! Can we JAM for you?!« Este gastar igen. Sedan, well… rockar de. Det här händer rätt ofta. »Honey & I« görs om från den rätt ljumma r'n'b/rock-hybriden den är till en buffé av distorsion. Jag vet inte om det är bra, men det ser ut och låter som en sol med solglasögon och en cigg i munnen.
Också detta mysiga: Haim får kvinnor i publiken att bete sig som fulla män på rockkonsert. Med skillnaden att de dansar. Två rätt berusade brunetter studsar in i mig och alla runtom dem flyttar sig i en fem meter stor radie. De två bälgar öl mellan de bästa textraderna i »Don't Save Me« som de bara måste skriksjunga med i. Steppar runt och tjuter av glädje. Helt uppslukade i nuet.
Musiken Haim spelar är ganska frigörande på så sätt.