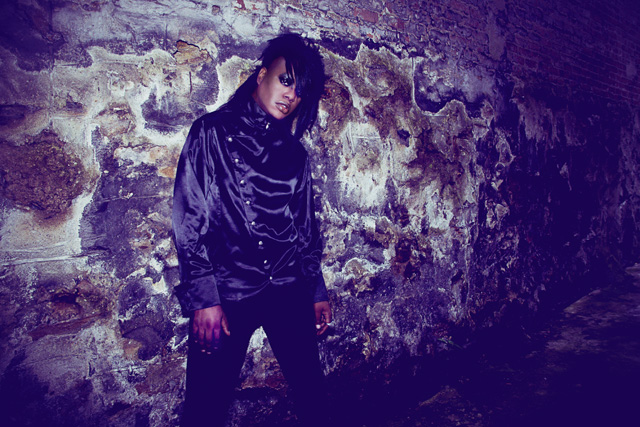 M. Lamar: Stillsam förtvivlan
Intervju
M. Lamar är kontratenor och pianist från New York som sjunger som slaveriets historia och som hämtar influenser från klassisk musik och black metal. Adrian Hörnquist pratar med honom om övervakning, operasång och Quentin Tarantino.
M. Lamar öppnar munnen och låter som en operadiva från ett annat århundrade. En diva som har ett mörkt budskap att förmedla. Den New York-baserade pianisten och kontratenoren sjunger med en ljus och vibratolik stämma. Rösten borrar sig in i ens hörselgångar och stannar kvar. Den är lika omöjlig att stänga ute som texterna. M. Lamar sjunger om slavhandeln och de svartas historia i USA. Han berättar om hur maktstrukturerna och rasismen från förr finns kvar. Låten »Speculum Orum« hänvisar till en anordning som användes på slavskeppen för att tvinga matvägrande slavar att äta. Liknande strukturer menar M. Lamar präglar det amerikanska samhället än i dag.
Med en bakgrund i olika goth- och punkband och efter en period på konstskola bestämde sig M. Lamar för att fokusera sina krafter på sitt soloprojekt. Hittills har han släppt två album, Negro Antichrist och Speculum Orum – Shackled to the dead. Musiken hämtar influenser från avantgardemusik från 1900-talet, blues, spirituals och black metal.
Det senaste arbetet, Surveillance Punishment & The Black Psyche, är ett musikteaterverk som ännu inte getts ut på skiva. Det kretsar kring den övervakning som M. Lamar menar att svarta i USA utsätts för i dag. Och hur svarta kroppar sexualiseras. Verket bygger på ett rättsfall från 1947 där en svart pojke dömdes till döden för mordet på en äldre vit man, en man som pojken haft en förmodad sexuell relation med.
M. Lamar spelar piano uttrycksfullt och hårt. Han ömsom hamrar in tonerna och ömsom smeker pianotangenter. Han tecknar en avgrundsdjup och mörk opera där han själv spelar huvudrollen. En person som vill utforska sin egen historia och greppa hopplöshet och förtvivlan.
M. Lamar har uppträtt i Sverige flera gånger. Inför hans senaste besök i Stockholm i november tog jag en pratstund med honom över Skype.

Cradle of Filth var ett av de band som fick dig att börja lyssna på black metal. Hur kom det sig?
– När jag var ung så var Cradle of Filth något av en inkörsport till black metal. På ett sätt föraktar jag dem nu, även om jag gillar Danis röst (Filth, vokalisten i Cradle of Filth, reds anm.). Det var den som fick mig att intressera mig för dem. Han har en ljus, skrikig röst som jag fortfarande gillar. Men nuförtiden lyssnar jag på band som Burzum. Eller musik som faller inom drone-genren, som Stephen O'Malley och hans projekt med Boris och det han gör under namnet KTL. Har du hört dem?
Nej, inte KTL.
– De släppte ett album förra året som har ett otroligt vackert stycke med en orkester. Många pop- och rockband och även en del black metal-grupper använder orkestrala inslag så att det låter ganska cheesy och Disney-artat. Men Stephen O'Malley lyckas göra något konstnärligt med det, framför allt i den låten, »Phill 2«. Det är något i droneljudet som är rogivande men också intensivt.
– Jag är intresserad av musik som är intensiv men som bara består av ett par toner och som har en spirituell karaktär. När du är på en Sunn O)))-konsert så är det både en fysisk och spirituell upplevelse. Detsamma gäller för Burzum, det är något med blast beatsen och gitarrerna i hans musik som är väldigt meditativt och andligt.
– Jag brukar alltid skämta om det, att jag gillar hans musik även fast han är rasist. Men rasister kan göra bra musik de med, Wagner är ett exempel på det.
Hade du några tankar på att starta ett black metal-band? Du var ju med i några punk- och gothband i början av 2000-talet.
– Ja, den musik vi gjorde i de banden gick hela tiden mot det hårdare. Jag tränade min röst att sjunga operamässigt då och det gick inte direkt stick i stäv med black metal. Jag tror att jag aldrig hittade rätt personer att starta ett black metal-band med. Och nu har jag det här soloprojektet.
– När jag var ung var jag intresserad av opera och Wagner-aktig musik. Jag tycker att metal, även sådant som Iron Maiden, har en episk sida. Om man går tillbaka till Black Sabbath så finns alla de mörka delarna i deras musik, som det doom metal-artade och det psykedeliska. Det är den typen av metal som jag är intresserad av. Jag gillar även Cecil Taylor, han är en frijazzpianist. Känner du till honom?
Nej.
– Han är nog en av viktigaste pianisterna inom frijazzen. Han lever fortfarande och är säkert runt 90 år (84 år, reds anm.). Han bor i Brooklyn fast i ett annat område än där jag bor. Är man intresserad av den mer avantgarde-betonade delen av black metal så bör man kolla upp honom. Han är en jazzmusiker i grunden men han spelar på ett väldigt eget sätt och använder alla toner på pianot. Han spelar rytmiskt och slagverksartat. Att se ett klipp med honom på Youtube är en renande och fysisk upplevelse. Hans stycken kan vara mellan nio och femton minuter, det är som att lyssna på en lång låt med Sunn O))).
Så han är en stor influens för dig?
– Absolut. Jag upptäckte honom på universitetet och det var en uppenbarelse. Jag gick en klass med inriktning på afroamerikansk musik och läraren visade en video med olika musiker som pratade. I början av videon syns en man i rosa hatt och med väldigt pråliga kläder. En svart man som förmodligen är queer och som pratade om musik på ett underbart sätt, det var Cecil Taylor. Jag hade inte hört hans musik då så jag letade upp honom på nätet och insåg vilket geni han är. Han har en djup existentiell förståelse för musik.
Du har sagt att en av anledningarna till att du behandlar slavhandeln och dess historia i dina texter är för att du ska kunna förstå din egen historia bättre. Har detta hjälpt dig något?
– Det jag gör handlar om ett utforskande i stil med det som författaren Toni Morrison gör i sina romaner. Och det hjälper mig definitivt att förstå mig själv bättre, var jag kommer ifrån och min morfars bakgrund som sharecropper i Alabama i början av 1900-talet (ofta svarta lantbrukare i amerikanska Södern under slutet av 1800- och början av 1900-talet som odlade grödor åt vita markägare och fick en del av intäkterna från skörden som betalning, reds anm.).
– Morfar växte upp i en sådan miljö. Det jag gör hjälper mig att förstå hans posttraumatiska stresssyndrom som han led av och som han förde över till min mamma. Jag uppfattar posttraumatiskt stressyndrom som ärftligt. Personer med judisk bakgrund brukar se på PTSD på samma sätt, att det är något man överför till sina barn. Så min musik är ett sätt för mig att känslomässigt hantera det, såväl som intellektuellt.
Ditt senaste verk som du uppträtt med, Surveillance Punishment & The Black Psyche, handlar om den övervakning som du uppfattar är riktad mot svarta personer i USA i dag. Kan du berätta om bakgrunden till detta arbete?
– Stycket bygger löst på berättelsen om Willie Francis. En svart 16-årig pojke som dömdes till döden för att ha mördat en äldre vit man, Andrew Thomas, som Willie hade jobbat för och som det påstods att han hade en sexuell relation med. Stycket är i jagform och är en tidsresa som börjar 1947 och som sedan går tillbaka till år 1847. Det är en person som styr berättelsen – jag – men det kan gälla för andra svarta män också.
– Med stycket vill jag ställa frågor om vad det innebär att vara en svart person i en vit koloniserad stat. Jag tror att det är en relevant fråga i vilket samhälle som helst, för vi är alla olika raser som existerar tillsammans. En fundamental fråga är därför vilken kunskap vi har om oss själva och varandra. Det är viktigt för mig och andra svarta människor, men det är också en universell sak, på en samhällelig nivå. Vad innebär det att existera tillsammans?
Du har pratat om att övervakning kan ses som något som är sexualiserat, vad menar du då?
– Det finns något vouyeristiskt i själva tittandet. Man kan se det på ett allmänt plan utifrån en polisstat. I New York finns det något som heter »stop-and-frisk«. Det går ut på att polisen kan stoppa fotgängare och visiterar dem om de misstänker dem för någonting. Jag antar att vem som helst kan bli stoppad av polisen om man väcker misstanke. Men de har riktat in sig på färgade män, som svarta och latinamerikaner, i en oproportionerlig utsträckning.
– För mig finns det en stark sexualiserad sida av det. Om du verkligen vill ta på någon så måste du stanna personen ifråga och göra det. Ett annat exempel är det sätt som svarta idrottspersoners kroppar framställs på, som inom basketsporten och NBA, vilket ofta är sexualiserat. Det är nog det bästa exemplet.
På vilket sätt då?
– På många sätt kan NBA liknas vid plantagekulturen som fanns i USA. Även om det börjar ändras så är ägarna till en övervägande del av lagen vita män. Och de anställer till största delen svarta män. Även om dessa män tjänar stora pengar så är själva strukturen lik den som rådde i plantagerna.
– Det finns något i hur vit överhöghet fungerar som handlar om exploatering, som att svarta människors kroppar värderas högre än deras intellekt. Det finns en pornografisk sida av kroppar som visas upp i hela sin perfektion, vilket ofta är fallet med svarta kroppar.
Du har sagt att plantagen existerar i dag.
–  Ja. Det är lite talande att folk, framför allt svarta, var väldigt exalterade när Barack Obama blev president. Det har alltid funnits svarta som har lyckats bli framgångsrika i ett system som är korrupt. Även under slaveriet, där det fanns slavar som var villiga att göra vad som behövdes för att komma framåt i systemet. Så för mig handlar det mer om att det är själva systemet som är fucked up och bristfälligt. Naturligtvis är folk mindre rasistiska i dag än under slaveriet men jag tycker att samma slags rasism och samma sorts strukturer finns i dag. Systemet i sig har inte förändrats i grunden. Det är som med det patriarkala systemet.
– Svarta har alltid varit en del av det kapitalistiska vita patriarkala systemet. Vi var slavar under en period och i dag är vi del av ett arbetande system fast på en annan nivå, ibland sker det arbetet i fängelser. En av de saker jag försöker göra med Surveillance Punishment & The Black Psyche är att fokusera på svarta män i en fängelsekontext. I USA sätter vi fler människor i fängelse än någon annan stans. Fängelseindustrin genererar mycket pengar och får mycket ekonomiskt stöd och där finns också mycket gratis arbetskraft. I USA:s konstitution står det att ingen får hållas i slaveri förutom om man begått ett brott. Den stora ironin är att de flesta som sitter i fängelse i USA i dag är svarta män. Så därför menar jag att plantagen fortfarande existerar.
– Den grundläggande berättelsen om USA är en historia om ras. Så mycket av det som händer politiskt, kulturellt och socialt här handlar om de svarta och de fruktansvärda orättvisorna från slaveriet och det arv som finns kvar efter det. På ett plan kan man säga att mitt arbete handlar om ras. Men jag skulle säga att det i grunden handlar om vad det innebär att vara amerikan.
Inom populärkulturen i USA är ras också ett återkommande ämne. Quentin Tarantinos senaste film Django Unchained utspelar sig under slaveriet och följer en befriad slav, (spelad av Jamie Foxx) som söker sin fru (spelad av Kerry Washington) som tagits tillfånga av en plantageägare. Filmen fick kritik, bland annat av Spike Lee som menade att slaveriet är inget man gör en spaghetti-western av. Vad tycker du om filmen?
– Jag håller med Spike Lee. Om man vill prata om övervakning och sexualisering av den svarta kroppen så är den filmen ett perfekt exempel på det. De som är nakna i filmen är Kerry Washington och Jamie Foxx. Och musiken… Tarantino brukar vara ett geni när det gäller musiken i sina filmer men denna gång framstår den bara som billig underhållning. Kan du föreställa dig att någon skulle göra en film om förintelsen som bara är ren underhållning? Det är otänkbart.
– Jag tycker att filmen är ren skit och den gör mig genuint förbannad. Varför får vi inte se Leonardo DiCaprio naken och upp och nedvänd med blottad kuk i filmen till exempel? Vi får se de svarta kropparna i filmen på det sättet men inga vita kroppar. För mig säger det allt om rasfrågan i USA och de djupa problem som finns.
Kritiken mot filmen försvann ganska snabbt, åtminstone här i Europa. Recensenterna konstaterade mest att detta var ännu en Tarantino-film med allt vad det innebär. Det var inte många som utvecklade den kritik som fanns.
– Det är märkligt, tittar man på de Oscarsnomineringar som filmen fick så var inte Jamie Foxx nominerad. De som vann var vita, den tyska skådespelaren (Christoph Waltz, reds anm.) fick pris för bästa biroll och Quentin Tarantino för bästa manus. Denna film som utger sig för att handla om svarta och slaveriet handlar egentligen om Tarantinos fantasi om slaveriet och den fetisch han har för svart kultur. Det är hans »negrofili« som visas upp och att han i slutändan är en wigger. Så har det varit ända sedan Pulp Fiction.
– Tarantino är intressant om man pratar om vit överhöghet. Tittar man på hans karriär så ser man tydligt det problem som finns med approprieringen av svart kultur, till exempel inom jazz. Tarantino ser svarta män som förkroppsligandet av det hårdkokta och coola. Han kan inte se de traumatiska sidorna av vad det innebär att vara svart, han kan inte se bortom swagen. Det är som en skämtteckning, ungefär som den karaktär som Samuel L. Jackson spelar i filmen.
– Allt handlar om coolhet. Och i vissa fall stämmer det. Miles Davis var till exempel en av de främsta artisterna som stod för den coola perioden inom jazzmusiken. Men det finns en annan sida – den blåa sidan som kommer från djup känslomässig tortyr och det katastrofala som ligger bakom den. Tarantino vill inte att de delarna ska störa hans fantasi om den svarta kulturen, inte ens i en film om slaveriet.
Din musik är influerad avantgardemusik från tidigt 1900-tal, negro spirituals och black metal. Jag tycker att den i sin kärna är stillsam även om mycket handlar om förtvivlan. Är stillhet något du strävar efter?
– Det är en intressant fråga. Jag ser mitt arbete ur ett meditativt perspektiv, att jag mediterar över de ämnen och teman som jag tar upp… Är du en depressiv person, Adrian?
Nej, inte kliniskt deprimerad, även om jag inte direkt är en »happy camper«. Är du depressiv?
– Nej, jag har inte fått den diagnosen i alla fall. Men anledningen till att jag frågar är för att när man upplever djup förtvivlan så kan man hamna i ett tillstånd då man inte kan röra sig. Man kan inte lämna sin lägenhet och man känner sig bortdomnad. Ibland försöker jag återspegla det i min musik, samtidigt som alla de här andra sakerna pågår omkring. Jag föreställer mig hur det skulle vara att befinna sig på ett slavskepp och jag försöker känna skräcken i det. Vad innebär det att vara inpressad i ett trångt utrymme under flera dagar, ovanpå flera lager av kroppar varav flera kan vara döda? Hur reagerar man på sådant? Jag föreställer mig att det innebär en skräck och en djup hopplöshet som kan vara väldigt tyst och stilla.
– Jag har inte varit i en sådan situation men jag har upplevt förtvivlan som varit stillsam i mitt liv. När jag var ett barn och innan jag började läsa om slaveriet så kände jag det, djupt i mig. Ibland kan man känna det utan att veta om det, utan att det har en logisk koppling.
– En av anledningarna till att jag gör musik som är i grunden icke-kommersiell är ett motstånd mot kommersialisering, objektifiering och exploatering. Men det är också ett sätt för mig att fundera över vad den sortens maktlöshet handlar om.
Du har sagt att konst inte är demokrati eller en tävling i popularitet. Är det svårt att ha den inställningen i det du gör?
– Nej, det är väldigt enkelt. Jag är en stark och självständig person. Vi kan dö närsomhelst, jag kan gå ut på gatan och något hemskt kan hända och jag dör. Vill jag att folk ska säga om mig när jag är borta att »han gjorde många glada och han hade känsla för det som var populärt och hade en marknad.«? Eller vill jag att man ska säga »den här artisten gjorde inträngande och djupsinniga saker både tematiskt och musikaliskt«?
– Om man ska bli populär och appellera till marknader så måste man utgå ifrån det specifika ögonblicket och vilken konst som funkar för stunden. Om man ser till popmusiken från 90-talet är det en engångsprodukt och poänglös i dag. Men om man ser till artister som Nina Simone eller Odetta Holmes så har folk en djupare relation till deras musik, det känns som att den betyder något. Jag vill inte låta arrogant och säga att det jag gör har en större betydelse, men mitt mål är att det ska ha det. Jag strävar efter en storhet som inte har något att göra med framgång och det kortsiktiga.
När man ser dig live så känns det som att det är lika mycket ett performance som en vanlig konsert. Hur stor del är performance och hur stor del är livemusik?
– Jag vet inte vad performance-konst är och skulle inte kalla mig för en performanceartist. Jag ser mig som en teatralisk musiker/artist/sångare. Mycket av det som influerade mig när jag var liten var operasångerskor som Maria Callas och Jessie Norman och där fanns hela tiden en tydlig teatralisk sida av musiken. Det gäller även för en artist som Patti LaBelle eller en gospelsångerska som Marion Williams. Och inom den europeiska operatraditionen finns det något storslaget i framträdandet, något man även hittar i svarta kyrkoförsamlingar. Så jag ser mig själv som en del av de traditionerna.
– Det jag gör på scenen är ritualistiskt och lite shamanistiskt kanske, jag vill att det ska vara en djup upplevelse.
Samtalet glider in på skräckfilmer. Något M Lamar är ett fan av, speciellt The Texas Chain Saw Massacre från 1974. Scenen där mördaren och huvudkaraktären Leatherface jagar en av kvinnorna i filmen genom en skog är en favoritsekvens.
– Leatherface representerar en slags demonisk karaktär med lädermasken och peruken, han uppträder som om han är besatt. Jag är intresserad av fenomenet att vara besatt av demoner, inte bara inom skräckfilm utan att kunna resa mellan olika tidsperioder vilket jag gör i mitt arbete. Ibland tror jag att jag är på väg att bli någon slags konstig demon. Men det är också intressant att föreställa sig en kropp som tas över av någon annan. För flera år sedan reagerade en kille när jag började sjunga för honom. Han tyckte att min sångröst inte kom från mig, även om han såg att det var jag som sjöng.
– Jag funderade inte på det då. Men när jag tänker tillbaka på det nu så tycker jag det är intressant att föreställa sig att någon annan själ eller person kan dyka upp och ta över ens kropp och tala genom en.
Skulle du säga att det finns en demonisk karaktär i operasång?
– Ja, jag tror det. Man använder ett grundläggande element i sången – andningen – för att få fram ljudet. Men ljudet är inte likt den talande rösten eller en popsångares röst. Från början var det tänkt att operasången skulle sjungas så att den skulle kunna spridas sig i hela operalokalen. För att göra det var man tvungen använda huvudet och ansiktet på ett sådant sätt att ljudet skjuts ut och får en omslutande karaktär. Det gör att ljudet kommer från ens kropp i dess renaste form, det är en sång som är utomkroppslig och övernaturlig. Jag har alltid sett operasång som övernaturlig.
– Lika mycket som den här förtvivlan som jag pratat om är konstant så finns det ett sätt i hur man sjunger som kan överskrida det. I sången finns det en möjlighet att övervinna det hopplösa.
Mer info om M. Lamar, här.